SLC in danger of being dissolved after investigation report
Committee finds a series of alleged wrongdoings among players and officials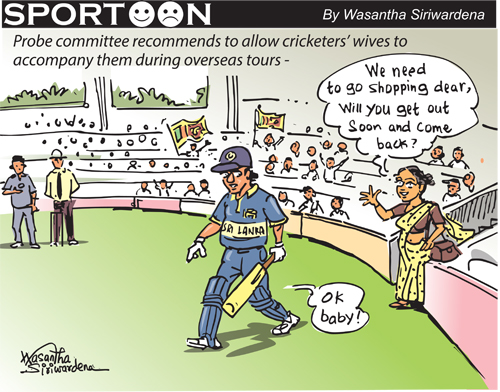 The cricket administration could be dissolved in the coming weeks after an investigation by a six-member committee on incidents related to the game during last year's ICC T20 World Cup in Australia has led to serious questions about Sri Lanka Cricket's (SLC) allegedly lavish spending on sending a busload of its officials to watch matches.
Given the seriousness of the reported financial misappropriation, the committee has recommended that the Sports Minister exercises his powers under the Sports Law and regulations promulgated thereunder to suspend, cancel or reenergize SLC's affiliation with the ministry.
The investigators also advised the minister to carry out an independent audit into the alleged expenditure and urged to seize board documents to ensure evidence was not destroyed. Legal actions have been recommended against those involved in the embezzlement of funds.
Sri Lanka Cricket is under intense scrutiny like never before since Arjuna Ranatunga took over as the Chairman of the National Sports Council (NSC)–the main advisory body to the Minister of Sport last year.
Sports Minister Roshan Ranasinghe said that he would take appropriate action after studying the report. But SLC is also working closely with its legal team to react in the event it is dissolved as it has branded the report to have been done with 'ulterior motives by distorting facts'.
"We will be compelled to take legal action to protect the good name of the institution against the purported findings," said SLC Secretary Mohan de Silva. De Silva was among those the committee interviewed to prepare the report.
According to the report, SLC has spent over Rs.65 million to send 16 administrators–which included two paid employees and 14 Executive Committee members–on a joyride to watch the World Cup despite instructions from the Sports Ministry to minimise costs. Although their travel is now being questioned, the Ministry had earlier approved it.
Of this sum, over Rs.25.5 million went for business class travel. The remainder was paid as allowances to meet expenses during their stay–each pocketing a handsome US$700 per diem over 10 days.
Accordingly, a sum of US$107,800–approximately Rs.39,438,812.00 at the current exchange rate–has been paid as allowances to 16 officials while the air tickets have cost SLC a Rs.25,687,498.00.
"According to the Sri Lanka Cricket constitution, one of their prime objectives is to promote, encourage, regulate and control the game of cricket in Sri Lanka. However, instead of doing that, the officials holding responsible positions have used SLC funds for their own personal benefits saying it's an incentive for the honorary service they do for the game," the 63-page report reads.
Among those travelled are President Shammi Silva, Secretary Mohan de Silva, Vice Presidents Jayantha Dharmadasa and Raveen Wickremaratne, Treasurer Lasantha Wickremasinghe, CEO Ashley de Silva, COO Jerome Jayaratne and Executive Committee members Sujeewa Godaliyadda, Cryshantha Kapuwatte, Janaka Pathirana, Thilak Wathuhewa, Samantha Dodanwela, Priyantha Algama, Bandula Dissanayake, Rear Admiral Nishantha de Silva and Nalin Aponsu.
Some traveled in an official capacity to attend various meetings held by the International Cricket Council (ICC) in conjunction with the World Cup but the majority were on a fully paid holiday.
For instance, the report says COO Jerome Jayaratne had no role to play with the team but was sent to Melbourne. It claims he had contributed nothing to the team during the trip and spent time with his sister instead.
The Sports Minister appointed the committee to investigate a litany of alleged wrongdoings among players, officials, and associates during the World Cup. It was headed by Sarojini Kusala Weerawardena and included former Ministry Secretary Kingsley Fernando, retired DIG Sudath Nagahamulla, retired Rear Admiral Ananda Peiris, former cricketer Nalin de Alwis, and lawyer Shalini Roshana Fernando.
During the investigation process, SLC officials reportedly had contradicted each other's statements to the committee and tried to hoodwink it by submitting a false report pertaining to the SLC travel, allegedly to cover up their many malpractices, says the report.
"According to a statement given by SLC Treasurer Lasantha Wickremasinghe, he has watched only one match during his stay in Australia. However, according to the report submitted by the SLC president, the treasurer has watched two Sri Lankan matches and another match. Even though the President stated that the Treasurer travelled in business class, Wickremasinghe has stated he travelled to Australia in first class. This proves that the President has given us a false statement," the report adds.
The report highlights several other instances of misinformation provided by the SLC President on officials' travel and their attendance at matches.
The report claims that despite notices issued by the committee to two Vice Presidents Jayantha Dharmadasa and Raveen Wickremaratne and Executive Committee members Sujeewa Godaliyadda, Krishantha Kapuwatte, Janaka Pathirana, Thilak Wathuhewa, Samantha Dodanwela, Priyantha Algama, Bandula Dissanayake, Rear Admiral Nishantha de Silva and Nalin Aponsu to present themselves before the committee, they had not attended.
SLC is the richest sports body in the country. Its President recently publicly claimed to have a balance of US$ 40 million in its coffers, a major improvement, having gone through a period of bankruptcy after co-hosting and hosting two World Cups in 2011 and 2012 in the country.
However, the Board's lavish spending has always been a point of discussion as it has not only doled out funds at will to its membership but also embarked on many development projects, while sharing its riches with the Sports Ministry and other charitable projects.
Call for tough action on disgraced cricketer Danushka Gunathilaka
The committee has called for tough action against cricketer Danushka Gunathilaka for bringing disrepute to the sport and the country. Batsman Gunathilaka was arrested just hours before the Sri Lanka team was to leave the team hotel to return home from the World Cup.
He is charged with four counts of sexual assault on a woman in Sydney that he found on a dating app. After 11 days in remand, he was set free on tough bail conditions and is currently fighting the case. He has admitted to sexual intercourse but denied any violence.
"It should be a punishment that will teach others on the importance of player discipline and self-control," the report stated.
Gunathilaka remains suspended from all forms of cricket but no local inquiry has yet been conducted for reasons best known to cricket officials at the Maitland Place headquarters.
Meanwhile, despite startling revelations made by Chief Selector Pramodya Wickremasinghe on cricketer Chamika Karunaratne's conduct during the World Cup, the committee has not touched on new evidence that surfaced. Instead, they have asked the Board to not to press for further charges as he was punished earlier for misconduct.
Karunaratne was involved in a brawl at a casino along with six teammates when he objected to a visitor taking his picture and also admitted to lighting a lamp in his room against the hotel's security procedures. Karunaratne was fined US$5000 for the fight and was handed a one-year suspended sentence. Further, he had been fined 1000 Australian Dollars while on tour for his excesses.
The committee has recommended a blanket ban on players visiting casinos and had recommended to allow wives in their hotel rooms — a practice permitted until 2016 — to ensure they do not stay out and violate team discipline. They have also recommended introducing social media guidelines to players and appointing strong person as captain and team manager.
'Born Again'
The committee had not found any concrete evidence to believe there's a substantial influence on Sri Lankan cricket by a man claiming to be a prophet heading a religious cult but had warned of a looming danger.
The report says it is not possible to determine that the influence of the cult had impacted the team's performance, "as certain players, for fear of their future careers, refrained from giving evidence on the cult's influence".
Jerome Fernando, a self-proclaimed prophet has a considerable following in Sri Lanka. Among them are some present and past cricketers, including batter Bhanuka Rajapaksa, who publicly admitted to Jerome's influence on his career since joining the cult in 2016. After Sri Lanka won the Asia Cup, the said pastor claimed it was his 'divine' intervention that helped Sri Lanka clinch the title.
The committee has, however, recommended that special attention must be paid to prevent this movement from influencing team selections in the future. SLC has vehemently denied such influence on team selection albeit any inquiry.
As part of the investigation, the committee recorded a statement from the controversial preacher who had reportedly predicted Sri Lankan player injuries during the World Cup. The panel has also recommended that teams leaving for international assignments receive blessings from Buddhist monks and other religious leaders.
Player fitness and player managers
The committee has proposed streamlining the player fitness programme on par with other international teams to minimise injuries during tours. Sri Lanka's World Cup campaign was hampered by injuries with almost the entire fast bowling squad breaking down.
SLC took a major step in the direction of health and fitness by adopting a solid and substantial fitness test for the players. In February 2021, SLC introduced the '2KM Run Fitness Test' and skin-fold test, replacing the old 'Yo-Yo Test' to check the fitness levels of all the national players.
Although the fitness test was one of the main criteria to earn selection to the team in 2021, the system was changed in 2022 with the Board introducing a financial penalty mechanism to deal with those taking fitness lightly.
The committee recommended that the same system be introduced to other teams, Sri Lanka 'A', Emerging and Sri Lanka Under-19s.
Another recommendation is to reduce the number of first class teams to 10 from 26, but direction has not been given on how to do it. Sri Lanka has a record 26 teams playing first class cricket. This has been highlighted as the biggest reason for plummeting standards.
Language discriminatory investigative report
The much-awaited report on Sri Lanka's behaviour at the last year's ICC T20 World Cup ended up along language discrimination after the document was released only and entirely in Sinhala. When asked the new Sports Ministry Secretary, K. Mahesan, while admitting an issue lies there, he added, "The vacancies for the translators remain open. Before the report is raised at the parliament, we need
to fix this".Despite, Tamil, country's second-most spoken language, the report was not found to be bilingually, and has raised questions on the basis it was prepared. On top of that, the 63-page report was not translated in English too, the link language, prompting only more questions over the comprehensibility.