IPL multi-millionaire Green shows his worth in Test cricket too
Despite not having bowled much recently, he picked up his maiden five-for to rip through South Africa on a good batting pitch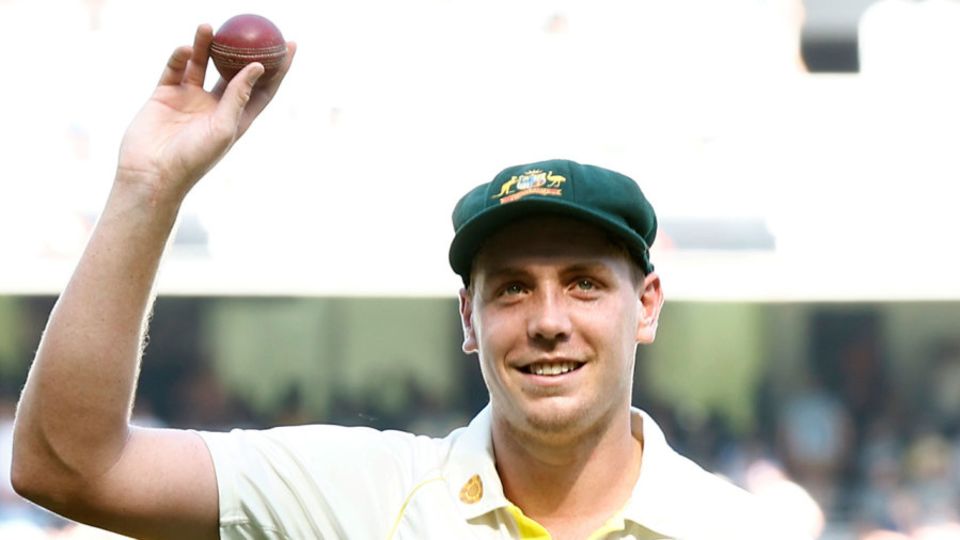 If that's his current market value in T20 cricket, where he averages 16.33 with the bat striking at 137.64, and 39.80 with the ball with an economy rate of 9.04, what kind of astronomical figure would his Test match market value be given he currently 
has better Test batting and bowling averages
 than 
Jacques Kallis did
 at the same young stage of his career, and he just ripped through South Africa on a good batting surface to put Australia firmly in control at the close of day one 
in Melbourne
.
There were a lot of eyebrows raised after Friday's IPL auction, even within the Australian camp. But they know what he's capable of and his performance on Monday served as a reminder.
It wasn't just that it was his first five-wicket haul in Test cricket, it was how he did it and how needed it was as Australia looked for a moment on Boxing Day like they had fluffed their lines having sent South Africa in.
In nine of the last ten first-class games at the MCG, the captain winning the toss had sent the opposition in. Yet two days out from this Test, there was talk among Australia's players and coaches that this was not the turbo-charged bowling pitch from 12 months ago or the green monster 
a week ago in Brisbane
. Despite the recent trends, there were thoughts within the Australian team that batting first would be the right move.
So it was a shock when Pat Cummins opted to bowl after the coin fell his way. And through the first 19 overs that looked like a mistake. Save for a loose shot from Sarel Erwee, Dean Elgar and Theunis de Bruyn looked relatively untroubled moving South Africa to 56 for 1 as Australia's vaunted trio of quicks failed to hone in.
Enter Green. At times on flatter wickets he has been encouraged to bowl shorter. But his extra height and bounce always represent a greater threat the fuller he goes. De Bruyn fell trying to pull a length that wasn't short enough, with a top edge going straight up to make a key breakthrough just ten minutes before lunch.
But inexplicably, after 12 balls, with the figures of 1 for 9, and only two more overs to bowl from his end before the break, Green was removed from the attack and Cummins brought himself on.
The captain managed Green superbly throughout last summer with the ball getting him into the game at the right times as his batting was struggling to have an impact while managing his bowling loads. The same can't be said this summer. Green went two months between October and December facing just 30 balls in the middle in two limited-overs games, having been stuck running the drinks at the T20 World Cup as a back-up rather than playing Sheffield Shield cricket.
"He is a bit different to the other three guys. Obviously he is so tall, so he gets quite a lot of bounce which is something different already. I felt like he's got the ability to shape the ball a little bit as well. So that's something different"

Kyle Verreynne on Green
In Perth, against West Indies
, where he got pad rash in both innings and didn't bat in the game, he didn't bowl until the 34th over in the first innings. He made an important breakthrough later in the innings dismissing Shamarh Brooks after a nagging stand to leave West Indies seven down. But he only bowled a three-over spell and was pulled from the attack as Cummins returned to wrap up the innings.
In Adelaide
, with Steven Smith in charge, he only bowled six overs for the match and had a catch dropped at slip. While in Brisbane, on a bowler's paradise, he only bowled three overs as the other bowlers feasted.
But even though Cummins did him no favours in the first session, Green revealed post-play that a conversation with the captain had helped him find some rhythm on Boxing Day despite his lack of bowling in the lead-up.
"I had a really good chat with Patty [Cummins] actually the day before and I think he kind of finds his rhythm when he bowls fourth and fifth stump, gets it through to the keeper," Green said. "He finds when it's kind of kissing through, the keeper is taking it at a pretty good level, that's how you gauge how you're going. If you're bowling too straight and they [batters] keep patting it back to you, you don't really know how you're going and how you're feeling."
Green did that to a tee later in the day and reaped the rewards to swing the game back into Australia's control.
South Africa had slumped to 67 for 5 just after lunch, thanks largely to two sensational pieces of fielding from 
Marnus Labuschagne
. But 
Kyle Verreynne
 and 
Marco Jansen
 mounted a superb counterattack sharing a 118-run stand with both making half-centuries.
Australia veered away from the fourth-fifth stump channel and bowled a swathe of short-pitched stuff with only one slip as the pitch began to play superbly. They also dropped three catches, including one that dislocated Mitchell Starc's middle finger and sent him off the field, although he would later return.
Cummins was forced to turn to Green and he duly delivered, hitting the exact spots his skipper had spoken about to nick off both Verreyne and Jansen in quick succession. He then forced Kagiso Rabada to chop on before rattling Lungi Ngidi's off stump to collect 5 for 27 as South Africa lost 5 for 10.
Verreynne was impressed by what he faced from Green. "He is a bit different to the other three guys," he said. "Obviously he is so tall, so he gets quite a lot of bounce which is something different already. I felt like he has got the ability to shape the ball a little bit as well. So that's something different. Starc shapes the ball but the other two right-armers are more seam bowlers. So I think he offers a bit extra there.
"I think because he is the fourth seamer and he is sort of playing in a batting role they get to use them in short bursts. So he can just run in for two-three overs, a lot of energy and as a batter, you've got to make sure that you are switched on for those periods. So yeah, it's a luxury that they have."
Australia's AUD 3.15 million luxury showed he is worth every cent.